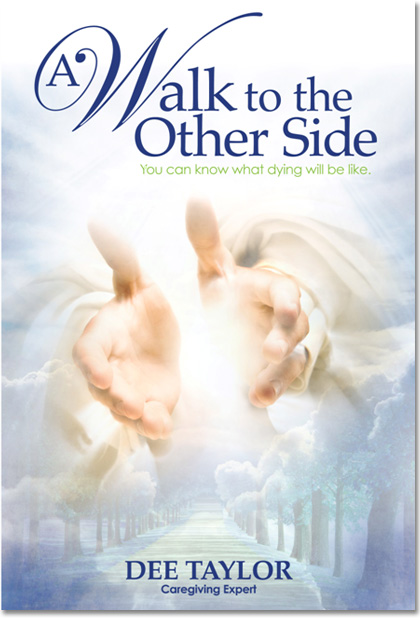 Video Overview of Dee's Book




About the Book

Because of Dee's Firsthand knowledge as a caregiver for eight members of her own family, her experience will take you on a walk to the other side with her oldest child and mother-in-law during their death process. They both had the disease of terminal cancer. Her hope is that once you have read the book, you will no longer have any fear of death whatsoever. Dying is just one step over from believing in Jesus to actually be with Him in afterlife, face to face for all eternity.

You won't want to lay it down until you have digested every last word. You will find yourself reading it again and again, in an effort to prepare yourself and your loved ones for a grand entrance into Heaven. It is a must-read for us all, who one day will physically die, and who may have "a need to know" about the unknown event right now, before we take our final walk to the other side-for all eternity!



Real Testimonies from Real Readers


Wayne Floyd, Maryland
I have read your book and I found much compassion in it with such strong faith. I will read it again and again.

S. Smith, Director, Focus on the family
Many thanks for sending an inscribed copy of "A Walk to the Other Side" What a labor of love...you have shared vulnerably from first hand experience about the complexities of a sensitve topic, and we commend your desire to come alongside others with compassion and wisdom...whether individuals who are caring for loved ones or facing death themselves."

Joyce Kable, Dallas, Tx
My friend with cancer is coming to see me and your book will assist me in supporting her through her walk to the other side. Thank you.

Coach Royce West and Dr. Synthia West, Tyler, TX
I am so grateful for your book. I will re-read your book forever. Royce and I are reading it together for your godly wisdom and bible verses.

Debbie Carroll-Boyce, Ms Senior America 2011.
I am reading your book - wonderful! Thanks for your prayers for our family.

Deb Gardner, President DG Int'l, Peoria, AZ
I read your book again..and loved it again! You sure hit a homerun on this subject.

Carol Swanson, Tyler, TX
I have a friend whose sister died last week. I am going to buy your book to give to her, she was found dead by her husband.

HS Classmate: Dee Hodges, Ohio
I am buying your book for sure. We have much in common since I too have lost a daughter and am raising her children too.

Norman Haddad, Florida
You have had quite a career! I am so proud of you.What a book!

Bill Johnston, Baton Rouge, LA
Wonderful book. I had to stop reading to tell you it came just in time, since I am with terminal cancer too.

Jean Cambron, Goosben, AL
Beautiful book Dee. Thank you for all you do for the aging population too.

Tammy Villapanda, Phoenix, AZ
This is the best book I have ever read! I have always had so many questions about death, but your book answers them all. Amazing! I am reading it again because it has so much spiritual wisdom in it.

John Taylor, MD
I am sending your beautiful book to my sister who has terminal cancer too.

Aspen Family, Aspen Hospice, Lewisville, Texas
Your book is absolutely "awesome", we will encourage our families to read it. God bless you.

Carol Swanson, Tyler, Texas
Dee, Your book is wonderful! I have purchased several more for some friends of mine. Now I am now writing my own book, and you are such an inspiration to me.

Gerald White, Professional Engineer
Granbury, TX
Dee Taylor's book brings wonderful information to some richly deserving, but often overlooked caregivers and family members who care for dying loved ones. There is no doubt in reading Dee Taylor's book that she has poured out her heart and soul into being a loving caregiver herself. My wish for all caregivers is to at least consider the possibility that God is offering you the best experience of your life as you read Dee Taylor's book. She has opened her heart so the light of her faith can shine boldly on these pages, to aid and comfort you as you sit as a caregiver for your loved ones, or as you prepare for your own passing in death.

Laurie Wilcher, Caregiver, Farmersville, TX
As David's mom's life came to an end, Dee Taylor's book, A Walk to the Other Side, would have been so helpful at that time, because neither one of us had ever taken care of someone dying at home before. Even when David's dad passed two years later, if we had been given Dee's book, we would have been better informed, and understood their spiritual walk while they were dying. So we want to thank Dee for writing this book. Now we know what it is like to be dying and we can be ready and better prepared for our appointed time. We also know it took courage to share Dee's personal pain so others could learn—and learn we did—as we turned each page.

Tracey C. Jones, President, Tremendous Life Books, Mechanicsburg, PA
I wish I had this book as I sat by my father's side for three months before his homegoing. It is full of amazing truths and biblical principles that enable us to prepare for our loved ones' earthly departure. Please read Dee Taylor's A Walk to the Other Side again and again, in an effort to prepare yourself and your loved ones for a grand entrance into Heaven. I intend to buy several copies to share with others.

Kathy Curtis, Copyeditor and Interior Formatting Specialist, DeBary, FL
I am very moved and touched with your beautiful book, A Walk to the Other Side. I pray millions will come to know Jesus through your writing, Dee. I am grateful He brought us together to edit this book. It is an honor to be a co-laborer with Him to do His work.