A Walk To The Other Side

You Can Know What Dying Will Be Like

Throughout this heartfelt writing, Dee Taylor backs her newfound edification with biblical Scriptures that resonate truth in her own spirit. You will find her writing informative, thought provoking, and with new enlightenment, as she brings along the reader on a walk to the other side with her oldest child and her mother-in-law, who both had terminal cancer.

Read more




Book Dee Taylor For Your Next Event!

Dee Taylor is founder and owner of "SomeWhere In-between," a Texas based company dedicated to speaking to corporate managers, caregivers and coaching speakers. Taylorís passion is specializing in guiding owners or managers of companies on how to "fold in" or enhance eldercare policies into their overall existing benefits and policies packages.

Read More...



The Rest of The Story

Read chapter summaries and other things that Dee believes you may want to know....Click here.



Book Formatting for Christian Authors

If you are an author in need of help proofing and copyediting, book interior formatting/typesetting, or creating a press-ready files, please visit Christian Book Format. Kathy is a highly gifted gal and you can't go wrong hiring her for your project.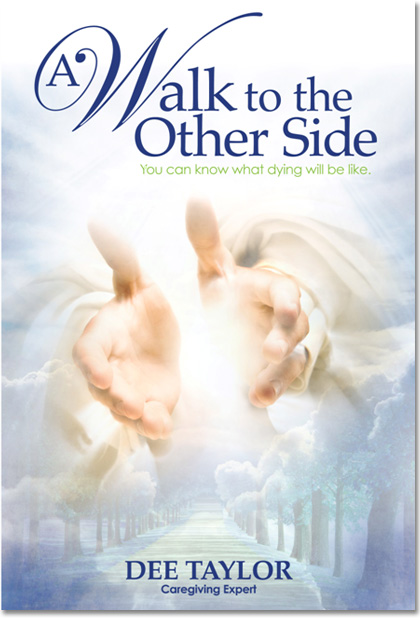 JOIN DEE IN THE CONVERSATION ABOUT DEATH AND DYING!
Share your stories with Dee at: deetaylorauthor@gmail.com



Media Announcements
1/16/13 - KENW 89.5 FM @ 3pm Central Time in Portales, NM & TX with Host, Dr. James Lee.
1/18/13 - KCMN -AM 1530/KCBR-AM 1040 with Host Tron Simpson in Colorado Springs, CO @ 8:15am central time.
1/18/13 - KKNT 100.7FM @ 1:00pm Central Time in Houston, TX with Host, Terry Lowry
>1/22/13 - WHNZ 1250AM @ 3:20pm Central Time in Tampa, FL with Hosts, Deb Goldman and Evan Gold
1/23/13 - It's Your Health Talk Radio (Nationally Syndicated to 7 stations) with Hosts Richard Kelly and Lisa Davis @ 9am central time
1/22/13 - WHNZ 3:20pm WITH DEB GOLDMAN, hOST IN Tampa, FL
1/24/13 - IN STUDIO LIVE KVRK (Dallas) Talk-Radio 89.7FM with host, Rick Walker
1/29/13 - issues with Host Walt Shaw taping from Sacramento CA for 5 CBS stations in the CA market @ 1:00pm, central time.
2/1/13 - WNTN-AM 1550 hosted by Paul Roberts in Boston , MA at 3:30pm central time
2/6/13 - KAHI-AM @ 12:30pm Central time with host, Mary Jane Popp 30 taped minutes to air that night on KAHI
2/28/13 - WKTO-FM 88.9 hosted by Carol Henry, Daytona Beach, FL at 11am central time on Power Talk
3/13 - Syndicated show and simulcast on internet. to five stations in Sacramento, CA Host: Walt Shaw on " Issues with Walt Shaw"
3/16/13 - WDCD-FM 96.7 hosted by Allison Steart in Alany, NY at 3:00pm central time
3/16/13 - KZSB1290am with host, Richard Dugen, Chapel Hill, FL
Talk-radio interview 6:35am (ctr'l) with WTISAM 2220, St. Petersbury, FL with Pete O'Shea
ARTICLES and BOOK APPEARED IN:
CHRISTMAS 2011 New release Bookstore Catalog, Xulon Press First Addition
Dee Taylor quoted in Standard-Examiner article, Ogden, Utah 12/22/12 following tragic shooting of 27 people inConnecticut.